This promo recipe was clipped from a Crisco label and found in a large collection, date unknown. I've typed it below along with a scanned copy.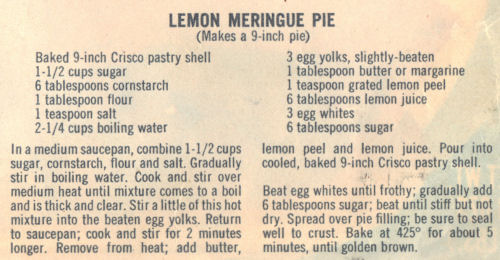 LEMON MERINGUE PIE
(Makes a 9-inch pie)
Baked 9-inch Crisco pastry shell
1-1/2 cups sugar
6 tablespoons cornstarch
1 tablespoon flour
1 teaspoon salt
2-1/4 cups boiling water
3 egg yolks, slightly-beaten
1 tablespoon butter or margarine
1 teaspoon grated lemon peel
6 tablespoons lemon juice
3 egg whites
6 tablespoons sugar
In a medium saucepan, combine 1-1/2 cups sugar, cornstarch, flour and salt. Gradually stir in boiling water. Cook and stir over medium heat until mixture comes to a boil and is thick and clear. Stir a little of this hot mixture into the beaten egg yolks. Return to saucepan; cook and stir for 2 minutes longer. Remove from heat; add butter, lemon peel and lemon juice. Pour into cooled, baked 9-inch Crisco pastry shell.
Beat egg whites until frothy; gradually add 6 tablespoons sugar; beat until stiff but not dry. Spread over pie filling; be sure to seal well to crust. Bake at 425° for about 5 minutes, until golden brown.
More Recipes For You To Enjoy: