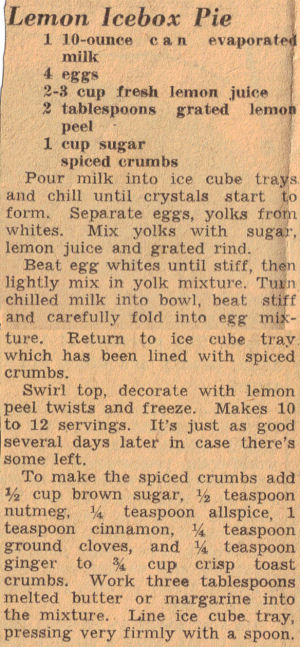 This old recipe was clipped from a newspaper, date unknown. The directions say to use an ice cube tray but considering that this recipe is a few decades old, I believe it was meant to use the tray without the cube partitions insert. Keep this in mind if you plan on trying this recipe. Recipe is typed below along with a scanned copy.
Lemon Icebox Pie
1 10-ounce can evaporated milk
4 eggs
2-3 cup fresh lemon juice
2 tablespoons grated lemon peel
1 cup sugar
spiced crumbs
Pour milk into ice cube trays and chill until crystals start to form. Separate eggs, yolks from whites. Mix yolks with sugar, lemon juice and grated rind.
Beat egg whites until stiff, then lightly mix in yolk mixture. Turn chilled milk into bowl, beat stiff and carefully fold into egg mixture. Return to ice cube tray which has been lined with spiced crumbs.
Swirl top, decorate with lemon peels twists and freeze. Makes 10 to 12 servings. It's just as good several days later in case there's some left.
To make the spiced crumbs add 1/2 cup brown sugar, 1/2 teaspoon nutmeg, 1/4 teaspoon allspice, 1 teaspoon cinnamon, 1/4 teaspoon ground cloves, and 1/4 teaspoon ginger to 3/4 cup crisp toast crumbs. Work three tablespoons melted butter or margarine into the mixture. Line ice cube tray, pressing very firmly with a spoon.
More Recipes For You To Enjoy: