This recipe was printed on the inside of a box of Keyko (vegetable oleo margarine) and was found in a large collection, date unknown. The clipping is in two pieces, I've scanned them both and typed out the recipe below.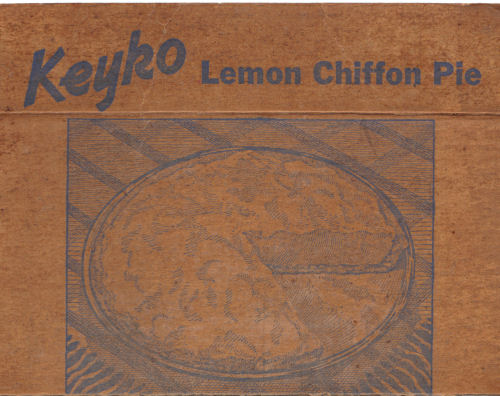 Keyko Lemon Chiffon Pie
A crumb crust made with KEYKO adds to temptingness of this favorite pie. You will find the crust easy to make.
CRUST
1 Cup Graham Cracker Crumbs
1/4 Cup Sugar
1 Teaspoon Cinnamon
1/4 Teaspoon Nutmeg
1/4 Teaspoon Salt
1/4 Cup Melted KEYKO
FILLING
1 Tablespoon Gelatin
1/4 Cup Cold Water
3 Eggs, separated
1/2 Cup Sugar
1/4 Teaspoon Salt
1/3 Cup Lemon juice
1 Teaspoon Grated Lemon Rind
Roll out graham crackers, (Zwieback can be used as well) with rolling pin to form fine crumbs. Combine these with sugar, spices and salt. Add melted KEYKO, blending thoroughly. Rub pie plate (8 or 9 inch) with KEYKO. Line with crumb mixture, pressing firmly to fit plate. If mixture fails to hold together satisfactorily, moisten with 1 Tablespoon water. Bake in moderate oven (350° F.) for about 5 minutes. Cool.
To make filling, soak gelatin in cold water. Blend the egg yolks with sugar, salt and lemon juice. Cook in double boiler or over boiling water with constant stirring until smooth and thick. Stir in dissolved gelatin and grated lemon rind. Set aside in a cool place to thicken. Beat egg whites until stiff. Fold into custard mixture as soon as it is well set. Pour into cooled crumb shell and chill thoroughly before serving.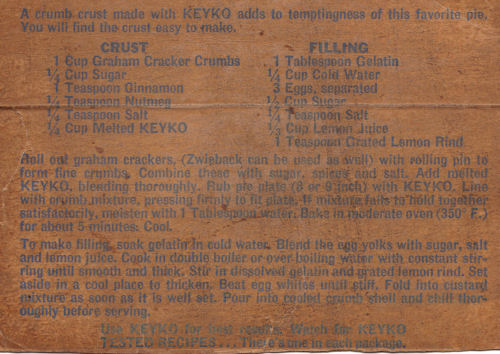 More Recipes For You To Enjoy: