This handwritten recipe was found in a large collection, date unknown. I've typed it below along with a scanned copy.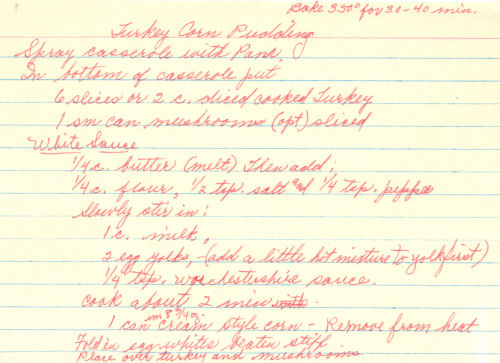 Turkey Corn Pudding
Bake 350° for 30-40 min.
Spray casserole with Pam.
In bottom of casserole put
6 slices or 2 c. diced cooked Turkey
1 sm. can mushrooms (opt) sliced
White Sauce
1/4 c. butter (melt) then add:
1/4 c. flour, 1/2 tsp. salt and 1/4 tsp. pepper
Slowly stir in:
1 c. milk
2 egg yolks (add a little hot mixture to yolk first)
1/4 tsp. Worcestershire sauce
Cook about 2 min
1 can sm 8 3/4 oz. cream style corn (RecipeCurio note: I believe this is mixed in after the sauce has cooked for 2 min)
Remove from heat
Fold in egg whites beaten stiff
Place over turkey and mushrooms. Bake.
More Recipes For You To Enjoy: