This handwritten recipe was found in a large collection, date unknown. I've typed it out below along with a scanned copy (front only).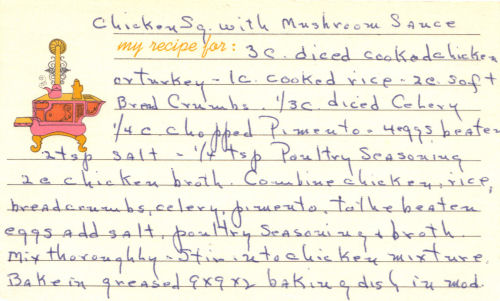 Chicken Sq. with Mushroom Sauce
3 c. diced cooked chicken or turkey
1 c. cooked rice
2 c. soft bread crumbs
1/3 c. diced celery
1/4 c. chopped pimento
4 eggs beaten
2 tsp salt
1/4 tsp poultry seasoning
2 c. chicken broth
Combine chicken, rice, breadcrumbs, celery, pimento. To the beaten eggs add salt, poultry seasoning & broth. Mix thoroughly. Stir into chicken mixture.
Bake in greased 9x9x2 baking dish in mod. oven 350° for 55 min. Cut in squares & serve with cream of chicken soup with added mushrooms.
More Recipes For You To Enjoy: