Here's a fun vintage recipe for shredded bbq ham sandwiches that was clipped from a newspaper and found in a large collection. Date unknown but likely was from the 1970's based on the advertising on the back. Recipe is typed below along with a scanned copy.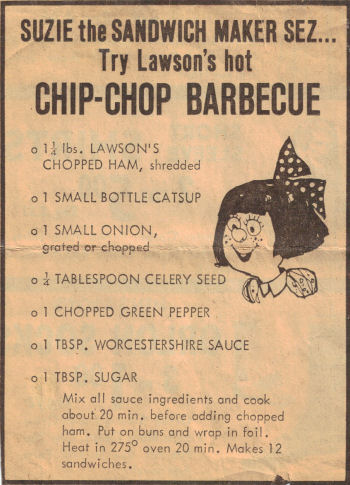 SUZIE the SANDWICH MAKER SEZ…
Try Lawson's hot
CHIP-CHOP BARBECUE
1 1/4 lbs. LAWSON'S CHOPPED HAM, shredded
1 SMALL BOTTLE CATSUP
1 SMALL ONION, grated or chopped
1/4 TABLESPOON CELERY SEED
1 CHOPPED GREEN PEPPER
1 TBSP. WORCESTERSHIRE SAUCE
1 TBSP. SUGAR
Mix all sauce ingredients and cook about 20 min. before adding chopped ham. Put on buns and wrap in foil. Heat in 275° oven 20 min. Makes 12 sandwiches.
More Recipes For You To Enjoy: