This recipe was written on a lined index card and found in a large collection, date unknown. I've typed it below along with a scanned copy (front side only).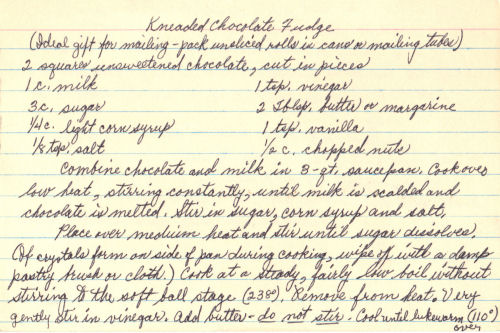 Kneaded Chocolate Fudge
(Ideal gift for mailing–pack unsliced rolls in cans or mailing tubes)
2 squares unsweetened chocolate, cut in pieces
1 c. milk
3 c. sugar
1/4 c. light corn syrup
1/8 tsp. salt
1 tsp. vinegar
2 Tblsp. butter or margarine
1 tsp. vanilla
1/2 c. chopped nuts
Combine chocolate and milk in 3-qt. saucepan. Cook over how heat, stirring constantly, until milk is scalded and chocolate is melted. Stir in sugar, corn syrup and salt.
Place over medium heat and stir until sugar dissolves. (If crystals form on side of pan during cooking, wipe off with a damp pastry brush or cloth.) Cook at a steady, fairly low boil without stirring to the soft ball stage (238°). Remove from heat. Very gently stir in vinegar. Add butter–do not stir. Cool until lukewarm (110°).
Add vanilla and beat until candy loses its gloss and starts to thicken. Stir in nuts.
Pour into lightly buttered pan or large platter. Let stand until cool enough to knead. Knead with fingers about 5 min.
Shape into 2 rolls, each about 2″ in diameter and about 5″ long.
Wrap in waxed paper or foil and store in refrigerator or other cool place until ready to use.
Slice slightly on diagonal in 1/2″ slices, wiping knife between cuts if fudge sticks to its blade.
Makes about 20 to 22 slices or about 2 pounds.
More Recipes For You To Enjoy: