This vintage recipe postcard and was found in a large collection, date unknown. I've typed it below along with a scanned copy (front side only).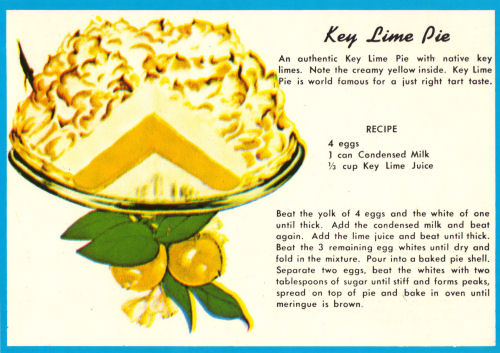 Key Lime Pie
An authentic Key Lime Pie with native key limes. Note the creamy yellow inside. Key Lime Pie is world famous for a just right tart taste.
RECIPE
4 eggs
1 can Condensed Milk
1/3 cup Key Lime Juice
Beat the yolk of 4 eggs and the white of one until thick. Add the condensed milk and beat again. Add the lime juice and beat until thick. Beat the 3 remaining egg whites until dry and fold in the mixture. Pour into a baked pie shell. Separate two eggs, beat the whites with two tablespoons of sugar until stiff and forms peaks, spread on top of pie and bake in oven until meringue is brown.
The description on the back of the postcard reads:
This is the authentic key lime pie dessert famous the world over. It is a slightly tart key limey taste which cannot be duplicated elsewhere. Key limes are grown only in the Florida keys. Be sure to use sweetened condensed milk.
More Recipes For You To Enjoy: