Here's a recipe for fans of the soap opera "Days Of Our Lives", this recipe is titled as Josh Taylor's Meat Loaf (Josh Taylor was one of the actors that played Roman Brady). It looks delicious too! Date of this magazine clipping is unknown, recipe is typed below along with a scanned copy.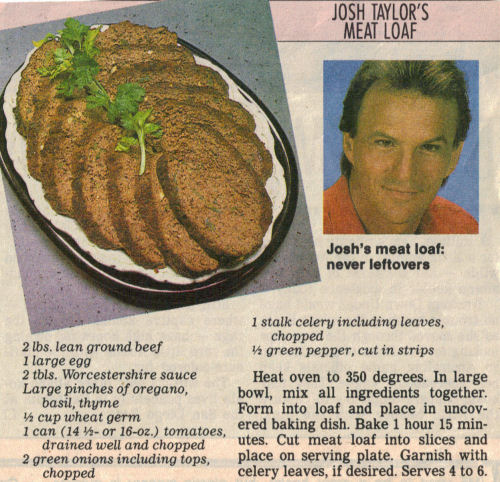 JOSH TAYLOR'S MEAT LOAF
Josh's meat loaf: never leftovers
2 lbs. lean ground beef
1 large egg
2 tbls. Worcestershire sauce
Large pinches of oregano, basil, thyme
1/2 cup wheat germ
1 can (14½- or 16-oz.) tomatoes, drained well and chopped
2 green onions including tops, chopped
1 stalk celery including leaves, chopped
1/2 green pepper, cut in strips
Heat oven to 350 degrees. In large bowl, mix all ingredients together. Form into loaf and place in uncovered baking dish. Bake 1 hour 15 minutes. Cut meat loaf into slices and place on serving plate. Garnish with celery leaves, if desired. Serves 4 to 6.
More Recipes For You To Enjoy: