This recipe was clipped from a package of some kind, likely an envelope of Lipton soup mix since it's one of the required ingredients. Date unknown. Recipe is typed below along with a scanned copy.
JIFFY TUNA NOODLE SKILLET
2 cups water
1 envelope Lipton Noodle Soup Mix with Real Chicken Broth
1 can (7 oz.) tuna, drained and flaked
1 package (10 oz.) frozen mixed vegetables
1/4 cup all-purpose flour
1 cup (1/2 pt.) light cream or half and half
In large skillet, bring water to a boil; stir in soup mix, tuna and vegetables. Simmer covered 5 minutes. Add flour blended with cream; bring to the boiling point, then simmer uncovered, stirring constantly, until sauce is thickened, about 5 minutes. Top, if desired, with buttered bread crumbs and parmesan cheese. Makes about 4 servings.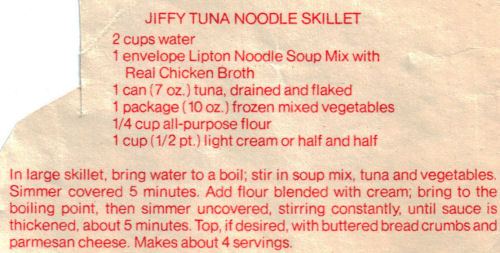 More Recipes For You To Enjoy: