This promo recipe from Spice Islands was found in a large collection, date unknown. I've typed it below along with a scanned copy.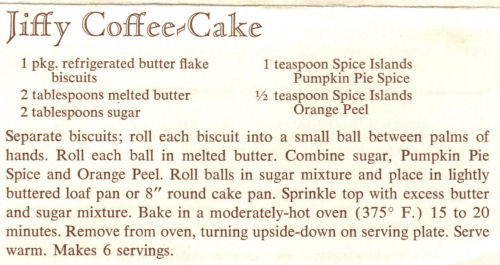 Jiffy Coffee-Cake
1 pkg. refrigerated butter flake biscuits
2 tablespoons melted butter
2 tablespoons sugar
1 teaspoon Spice Islands Pumpkin Pie Spice
1/2 teaspoon Spice Islands Orange Peel
Separate biscuits; roll each biscuit into a small ball between palms of hands. Roll each ball in melted butter. Combine sugar, Pumpkin Pie Spice and Orange Peel. Roll balls in sugar mixture and place in lightly buttered loaf pan or 8″ round cake pan. Sprinkle top with excess butter and sugar mixture. Bake in a moderately-hot oven (375° F.) 15 to 20 minutes. Remove from oven, turning upside-down on serving plate. Serve warm. Makes 6 servings.
More Recipes For You To Enjoy: