This recipe was clipped from a box of Jiffy Baking Mix, date unknown. Recipe is typed below along with a scanned copy.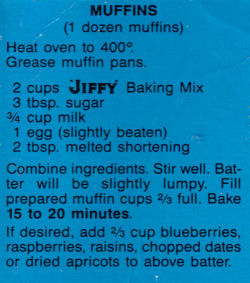 MUFFINS
(1 dozen muffins)
Heat oven to 400°.
Grease muffin pans.
2 cups 'JIFFY' Baking Mix
3 tbsp. sugar
3/4 cup milk
1 egg (slightly beaten)
2 tbsp. melted shortening
Combine ingredients. Stir well. Batter will be slightly lumpy. Fill prepared muffin cups 2/3 full. Bake 15 to 20 minutes.
If desired, add 2/3 cup blueberries, raspberries, raisins, chopped dates or dried apricots to above batter.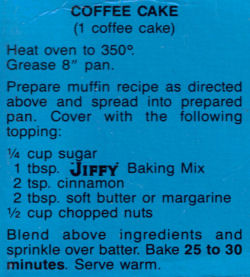 COFFEE CAKE
(1 coffee cake)
Heat oven to 350°.
Grease 8″ pan.
Prepare muffin recipe as directed above and spread into prepared pan. Cover with the following topping:
1/4 cup sugar
1 tbsp. 'JIFFY' Baking Mix
2 tsp. cinnamon
2 tbsp. soft butter or margarine
1/2 cup chopped nuts
Blend above ingredients and sprinkle over batter. Bake 25 to 30 minutes. Serve warm.
More Recipes For You To Enjoy: