This recipe booklet from Jell-O was published in 1977 and is part of my personal collection of Jello recipes, each of the pages are filed in the Jello Beautiful Desserts Category. There are 16 recipes in total.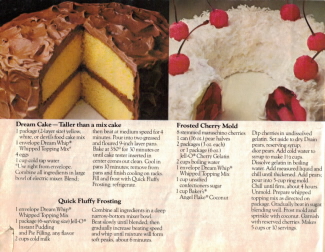 Dream Cake — Taller than a mix cake
1 package (2-layer size) yellow, white, or devil's food cake mix
1 envelope Dream Whip Whipped Topping Mix*
4 eggs
1 cup cold tap water
*Use right from envelope.
Combine all ingredients in large bowl of electric mixer. Blend; then beat at medium speed for 4 minutes. Pour into two greased and floured 9-inch layer pans. Bake at 350° for 30 minutes or until cake tester inserted in center comes out clean. Cool in pans 10 minutes; remove from pans and finish cooling on racks. Fill and frost with Quick Fluffy Frosting; refrigerate.
Quick Fluffy Frosting
1 envelope Dream Whip Whipped Topping Mix
1 package (6-serving size) Jell-O Instant Pudding and Pie Filling, any flavor
2 cups cold milk
Combine all ingredients in a deep narrow-bottom mixer bowl. Beat slowly until blended; then gradually increase beating speed and whip until mixture will form soft peaks, about 6 minutes.
Frosted Cherry Mold
8 stemmed maraschino cherries
1 can (16 oz.) pear halves
2 packages (3 oz. each) or 1 package (6 oz.) Jell-O Cherry Gelatin
2 cups boiling water
1 envelope Dream Whip Whipped Topping Mix
1 cup unsifted confectioners sugar
1 cup Baker's Angel Flake Coconut
Dip cherries in undissolved gelatin. Set aside to dry. Drain pears, reserving syrup; dice pears. Add cold water to syrup to make 1 1/2 cups. Dissolve gelatin in boiling water. Add measured liquid and chill until thickened. Add pears; pour into 5-cup ring mold. Chill until firm, about 4 hours. Unmold. Prepare whipped topping mix as directed on package. Gradually beat in sugar, blending well. Frost mold and sprinkle with coconut. Garnish with reserved cherries. Makes 5 cups or 10 servings.
More Recipes For You To Enjoy: