This recipe booklet from Jell-O was published in 1977 and is part of my personal collection of Jello recipes, each of the pages are filed in the Jello Beautiful Desserts Category. There are 16 recipes in total.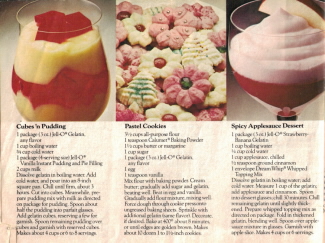 Cubes 'n Pudding
1 package (3 oz.) Jell-O Gelatin, any flavor
1 cup boiling water
3/4 cup cold water
1 package (4-serving size) Jell-O Vanilla Instant Pudding and Pie Filling
2 cups milk
Dissolve gelatin in boiling water. Add cold water, and pour into an 8-inch square pan. Chill until firm, about 3 hours. Cut into cubes. Meanwhile, prepare pudding mix with milk as directed on package for pudding. Spoon about half the pudding into parfait glasses.
Add gelatin cubes, reserving a few for garnish. Spoon remaining pudding over cubes and garnish with reserved cubes.
Makes about 4 cups or 6 to 8 servings.
Pastel Cookies
3 1/2 cups all-purpose flour
1 teaspoon Calumet Baking Powder
1 1/2 cups butter or margarine
1 cup sugar
1 package (3 oz.) Jell-O Gelatin, any flavor
1 egg
1 teaspoon vanilla
Mix flour with baking powder. Cream butter; gradually add sugar and gelatin, beating well. Beat in egg and vanilla. Gradually add flour mixture, mixing well. Force dough through cookie press onto ungreased baking sheets. Sprinkle with additional gelatin (same flavor). Decorate, if desired. Bake at 400° about 8 minutes, or until edges are golden brown. Makes about 10 dozen 1 to 1 1/2-inch cookies.
Spicy Applesauce Dessert
1 package (3 oz.) Jell-O Strawberry-Banana Gelatin
1 cup boiling water
1/4 cup cold water
1 cup applesauce, chilled
1/2 teaspoon ground cinnamon
1 envelope Dream Whip Whipped Topping Mix
Dissolve gelatin in boiling water; add cold water. Measure 1 cup of the gelatin; add applesauce and cinnamon. Spoon into dessert glasses; chill 30 minutes. Chill remaining gelatin until slightly thickened. Prepare whipped topping mix as directed on package. Fold in thickened gelatin, blending well. Spoon over applesauce mixture in glasses. Garnish with apple slice. Makes 4 cups or 6 servings.
More Recipes For You To Enjoy: