This recipe booklet from Jell-O was published in 1977 and is part of my personal collection of Jello recipes, each of the pages are filed in the Jello Beautiful Desserts Category. There are 16 recipes in total.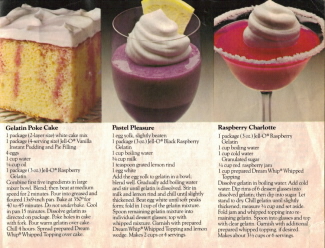 Gelatin Poke Cake
1 package (2-layer size) white cake mix
1 package (4-serving size) Jell-O Vanilla Instant Pudding and Pie Filling
4 eggs
1 cup water
1/4 cup oil
1 package (3 oz.) Jell-O Raspberry Gelatin
Combine first five ingredients in large mixer bowl. Blend; then beat at medium speed for 2 minutes. Pour into greased and floured 13×9-inch pan. Bake at 350° for 40 to 45 minutes. Do not underbake. Cool in pan 15 minutes. Dissolve gelatin as directed on package. Poke holes in cake with fork. Pour warm gelatin over cake. Chill 4 hours. Spread prepared Dream Whip Whipped Topping over cake.
Pastel Pleasure
1 egg yolk, slightly beaten
1 package (3 oz.) Jell-O Black Raspberry Gelatin
1 cup boiling water
3/4 cup milk
1 teaspoon grated lemon rind
1 egg white
Add the egg yolk to gelatin in a bowl; blend well. Gradually add boiling water and stir until gelatin is dissolved. Stir in milk and lemon rind and chill until slightly thickened. Beat egg white until soft peaks form; fold in 1 cup of the gelatin mixture. Soon remaining gelatin mixture into individual dessert glasses; top with whipped mixture. Garnish with prepared Dream Whip Whipped Topping and lemon wedge. Makes 2 cups or 4 servings.
Raspberry Charlotte
1 package (3 oz.) Jell-O Raspberry Gelatin
1 cup boiling water
1 cup cold water
Granulated sugar
1/4 cup red raspberry jam
1 cup prepared Dream Whip Whipped Topping
Dissolve gelatin in boiling water. Add cold water. Dip rims of 6 dessert glasses into dissolved gelatin; then dip into sugar. Let stand to dry. Chill gelatin until slightly thickened; measure 3/4 cup and set aside. Fold jam and whipped topping into remaining gelatin. Spoon into glasses and top with clear gelatin. Garnish with additional prepared whipped topping, if desired. Makes about 3 1/2 cups or 6 servings.
More Recipes For You To Enjoy: