This recipe booklet from Jell-O was published in 1977 and is part of my personal collection of Jello recipes, each of the pages are filed in the Jello Kids Category. There are 15 recipes in total, 3 recipes per page.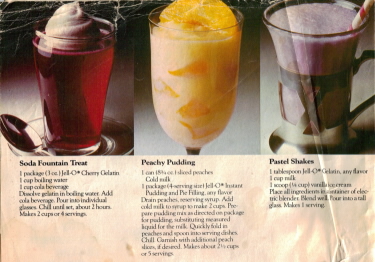 Soda Fountain Treat
1 package (3 oz.) Jell-O Cherry Gelatin
1 cup boiling water
1 cup cola beverage
Dissolve gelatin in boiling water. Add cola beverage. Pour into individual glasses. Chill until set, about 2 hours. Makes 2 cups or 4 servings.
Peachy Pudding
1 can (8 3/4 oz.) sliced peaches
Cold milk
1 package (4-serving size) Jell-O Instant Pudding and Pie Filling, any flavor
Drain peaches, reserving syrup. Add cold milk to syrup to make 2 cups. Prepare pudding mix as directed on package for pudding, substituting measured liquid for the milk. Quickly fold in peaches and spoon into serving dishes. Chill. Garnish with additional peach slices, if desired. Makes about 2 1/2 cups or 5 servings.
Pastel Shakes
1 tablespoon Jell-O Gelatin, any flavor
1 cup milk
1 scoop (1/4 cup) vanilla ice cream
Place all ingredients in container of electric blender. Blend well. Pour into a tall glass. Makes 1 serving.
More Recipes For You To Enjoy: