This recipe was clipped from a newspaper and found in a large collection, date unknown. I've typed it below along with a scanned copy.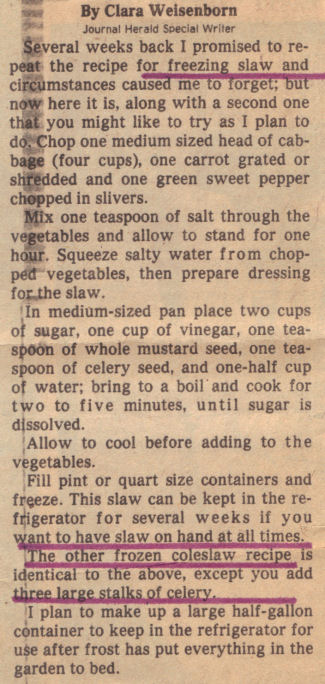 Several weeks back I promised to repeat the recipe for freezing slaw and circumstances caused me to forget; but now here it is, along with a second one that you might like to try as I plan to do. Chop one medium sized head of cabbage (four cups), one carrot grated or shredded and one green sweet pepper chopped in slivers.
Mix one teaspoon of salt through the vegetables and allow to stand for one hour. Squeeze salty water from chopped vegetables, then prepare dressing for the slaw.
In medium-sized pan place two cups of sugar, one cup of vinegar, one teaspoon of whole mustard seed, one teaspoon of celery seed, and one-half cup of water; bring to a boil and cook for two to five minutes, until sugar is dissolved.
Allow to cool before adding to the vegetables.
Fill pint or quart size containers and freeze. This slaw can be kept in the refrigerator for several weeks if you want to have slaw on hand at all times.
The other frozen coleslaw recipe is identical to the above, except you add three large stalks of celery.
I plan to make up a large half-gallon container to keep in the refrigerator for use after frost has put everything in the garden to bed.
More Recipes For You To Enjoy: