This is a promo recipe card from Bisquick, date unknown. Recipe is typed below along with a scanned copy of the card which is clickable if you'd like to view a larger size.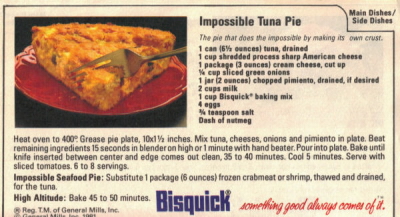 Impossible Tuna Pie
The pie that does the impossible by making its own crust.
1 can (6 1/2 ounces) tuna, drained
1 cup shredded process sharp American cheese
1 package (3 ounces) cream cheese, cut up
1/4 cup sliced green onions
1 jar (2 ounces) chopped pimiento, drained, if desired
2 cups milk
1 cup Bisquick baking mix
4 eggs
3/4 teaspoon salt
Dash of nutmeg
Heat oven to 400°. Grease pie plate, 10 x 1 1/2 inches. Mix tuna, cheeses, onions and pimiento in plate. Beat remaining ingredients 15 seconds in blender on high or 1 minute with hand beater. Pour into plate. Bake until knife inserted between center and edge comes out clean, 35 to 40 minutes. Cool 5 minutes. Serve with sliced tomatoes. 6 to 8 servings.
Impossible Seafood Pie: Substitute 1 package (6 ounces) frozen crabmeat or shrimp, thawed and drained, for the tuna.
High Altitude: Bake 45 to 50 minutes.
More Recipes For You To Enjoy: