Here's a promo recipe card (paper) distributed by General Mills, Inc. Not sure of the date but I'd guess the 1980's through 1990's sometime. The recipe is typed below along with a scanned copy–click to view larger copy.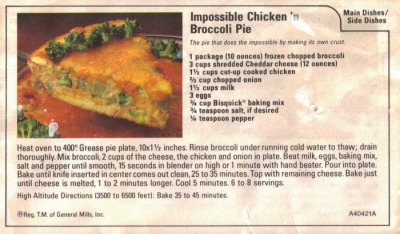 Impossible Chicken 'n Broccoli Pie
The pie that does the impossible by making its own crust.
1 package (10 ounces) frozen chopped broccoli
3 cups shredded Cheddar cheese (12 ounces)
1 1/2 cups cut-up cooked chicken
2/3 cup chopped onion
1 1/3 cups milk
3 eggs
3/4 cup Bisquick baking mix
3/4 teaspoon salt, if desired
1/4 teaspoon pepper
Heat oven to 400°. Grease pie plate, 10×1 1/2 inches. Rinse broccoli under running cold water to thaw; drain thoroughly. Mix broccoli, 2 cups of the cheese, the chicken and onion in plate. Beat milk, eggs, baking mix, salt and pepper until smooth, 15 seconds in blender on high or 1 minute with hand beater. Pour into plate. Bake until knife inserted in center comes out clean, 25 to 35 minutes. Top with remaining cheese. Bake just until cheese is melted, 1 to 2 minutes longer. Cool 5 minutes. 6 to 8 servings.
High Altitude Directions (3500 to 6500 feet): Bake 35 to 45 minutes.
More Recipes For You To Enjoy: