This promo recipe from Bisquick and Thank You pie filling was clipped from a magazine and found in a large collection, marked date is 1983. I've typed it below along with a scanned copy.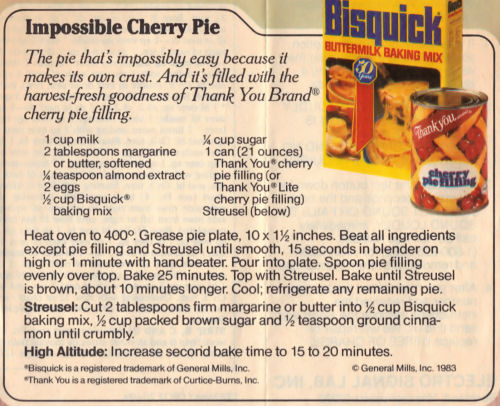 Impossible Cherry Pie
The pie that's impossibly easy because it makes its own crust. And it's filled with the harvest-fresh goodness of Thank You Brand cherry pie filling.
1 cup milk
2 tablespoons margarine or butter, softened
1/4 teaspoon almond extract
2 eggs
1/2 cup Bisquick baking mix
1/4 cup sugar
1 can (21 ounces) Thank You cherry pie filling (or Thank You Lite cherry pie filling)
Streusel (below)
Heat oven to 400°. Grease pie plate, 10 x 1 1/2 inches. Beat all ingredients except pie filling and Streusel until smooth, 15 seconds in blender on high or 1 minute with hand beater. Pour into plate. Spoon pie filling evenly over top. Bake 25 minutes. Top with Streusel. Bake until Streusel is brown, about 10 minutes longer. Cool; refrigerate any remaining pie.
Streusel: Cut 2 tablespoons firm margarine or butter into 1/2 cup Bisquick baking mix, 1/2 cup packed brown sugar and 1/2 teaspoon ground cinnamon until crumbly.
High Altitude: Increase second bake time to 15 to 20 minutes.
More Recipes For You To Enjoy: