This handwritten recipe card was found in a large collection, date unknown. I've typed it below along with a scanned copy.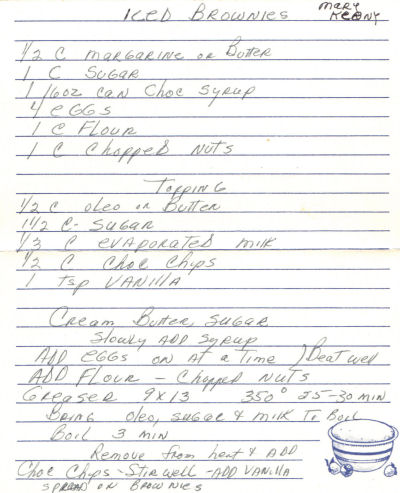 ICED BROWNIES
1/2 c margarine or butter
1 c sugar
1 16 oz can choc syrup
4 eggs
1 c flour
1 c chopped nuts
Topping
1/2 c oleo or butter
1 1/2 c sugar
1/3 c evaporated milk
1/2 c choc chips
1 tsp vanilla
Cream butter, sugar.
Slowly add syrup.
Add eggs one at a time, beat well.
Add flour – chopped nuts.
Greased 9×13
350°
25-30 min
Bring oleo, sugar & milk to boil.
Boil 3 min.
Remove from heat & add choc chips – stir well – add vanilla.
Spread on brownies.
More Recipes For You To Enjoy: