These recipe instructions were clipped from a newspaper (or maybe a magazine with similar paper) and found in a large collection, date unknown. I've typed it out below along with a scanned copy.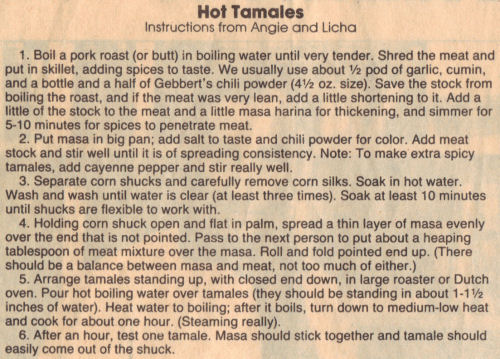 Hot Tamales
Instructions from Angie and Licha
Boil a pork roast (or butt) in boiling water until very tender. Shred the meat and put in skillet, adding spices to taste. We usually use about 1/2 pod of garlic, cumin, and a bottle and a half of Gebbert's chili powder (4 1/2 oz. size). Save the stock from boiling the roast, and if the meat was very lean, add a little shortening to it. Add a little of the stock to the meat and a little masa harina for thickening, and simmer for 5-10 minutes for spices to penetrate meat.
Put masa in big pan; add salt to taste and chili powder for color. Add meat stock and stir well until it is of spreading consistency. Note: To make extra spicy tamales, add cayenne pepper and stir really well.
Separate corn shucks and carefully remove corn silks. Soak in hot water. Wash and wash until water is clear (at least three times). Soak at least 10 minutes until shucks are flexible to work with.
Holding corn shuck open and flat in palm, spread a thin layer of masa evenly over the end that is not pointed. Pass to the next person to put about a heaping tablespoon of meat mixture over the masa. Roll and fold pointed end up. (There should be a balance between masa and meat, not too much of either.)
Arrange tamales standing up, with closed end down, in large roaster or Dutch oven. Pour hot boiling water over tamales (they should be standing in about 1-1 1/2 inches of water). Heat water to boiling; after it boils, turn down to medium-low heat and cook for about one hour. (Steaming really).
After an hour, test one tamale. Masa should stick together and tamale should easily come out of the shuck.
More Recipes For You To Enjoy: