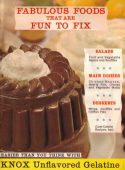 This is the inside cover of the vintage recipe booklet: Fabulous Foods That Are Fun To Fix that was published by Knox Gelatine, Inc., in 1961.
You can view all the pages in this cookbook by visiting this category: Fabulous Foods: Knox Gelatine, just click a page title to view that section.
There is a scan of the page included below, click to view a larger size.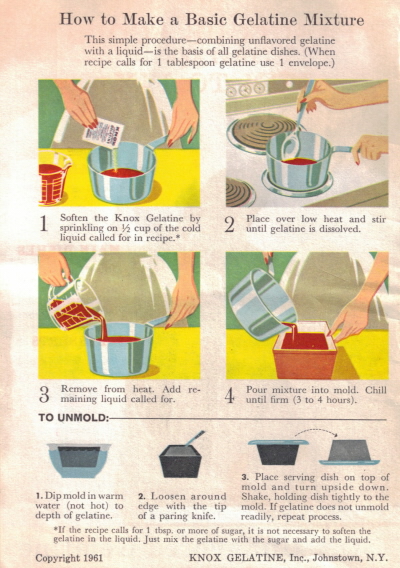 How to Make a Basic Gelatine Mixture
This simple procedure–combining unflavored gelatine with a liquid–is the basis of all gelatine dishes. (When recipe calls for 1 tablespoon gelatine use 1 envelope.)
Soften the Knox Gelatine by sprinkling on 1/2 cup of the cold liquid called for in recipe.*
Place over low heat and stir until gelatine is dissolved.
Remove from heat. Add remaining liquid called for.
Pour mixture into mold. Chill until firm (3 to 4 hours).
TO UNMOLD:
Dip mold in warm water (not hot) to depth of gelatine.
Loosen around edge with the tip of a paring knife.
Place serving dish on top of mold and turn upside down. Shake, holding dish tightly to the mold. If gelatine does not unmold readily, repeat process.
*If the recipe calls for 1 tbsp. or more of sugar, it is not necessary to soften the gelatine in the liquid. Just mix the gelatine with the sugar and add the liquid.
More Recipes For You To Enjoy: