This recipe is typed onto a white index card, found in an old box of recipes. I did make some spelling corrections but otherwise typed as-is. You can review the recipe underneath the picture below.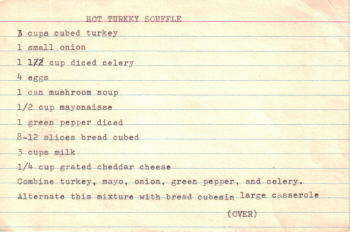 Hot Turkey Souffle
3 cups cubed turkey
1 small onion
1 1/2 cup diced celery*
4 eggs
1 can mushroom soup
1/2 cup mayonnaise
1 green pepper diced
8-12 slices bread cubed
3 cups milk
1/4 cup grated cheddar cheese
Combine turkey, mayo, onion, green pepper, and celery. Alternate this mixture with bread cubes in large casserole. Combine eggs and milk and pour over turkey mixture. Let stand in refrigerator overnight. Top with mushroom soup and sprinkle with cheddar cheese. Bake 1 hour in 325 degree oven. Serves 10.
*RecipeCurio Note: There was a correction made on the card for the amount, I do believe it is supposed to be 1 1/2 cups of diced celery.
More Recipes For You To Enjoy: