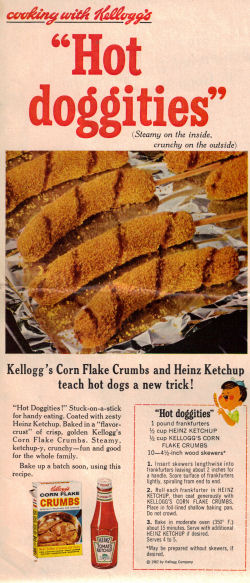 This recipe comes from a half page advertisement for Kellogg's clipped from a magazine, date is 1962. Recipe is typed in full below along with a scanned copy.
cooking with Kellogg's
"Hot doggities"
(Steamy on the inside, crunchy on the outside)
Kellogg's Corn Flake Crumbs and Heinz Ketchup teach hot dogs a new trick!
"Hot Doggities!" Stuck-on-a-stick for handy eating. Coated with zesty Heinz Ketchup. Baked in a "flavor-crust" of crisp, golden Kellogg's Corn Flake Crumbs. Steamy, ketchup-y, crunchy–fun and good for the whole family.
Bake up a batch soon, using this recipe.
"Hot doggities"
1 pound frankfurters
1/2 cup HEINZ KETCHUP
1/2 cup KELLOGG'S CORN FLAKE CRUMBS
10–4 1/2-inch wood skewers*
Insert skewers lengthwise into frankfurters leaving about 2 inches for a handle. Score surface of frankfurters lightly, spiraling from end to end.
Roll each frankfurter in HEINZ KETCHUP, then coat generously with KELLOGG'S CORN FLAKE CRUMBS. Place in foil-lined shallow baking pan. Do not crowd.
Bake in moderate oven (350° F.) about 15 minutes. Serve with additional HEINZ KETCHUP if desired.
Serves 4 to 5.
*May be prepared without skewers, if desired.
More Recipes For You To Enjoy: