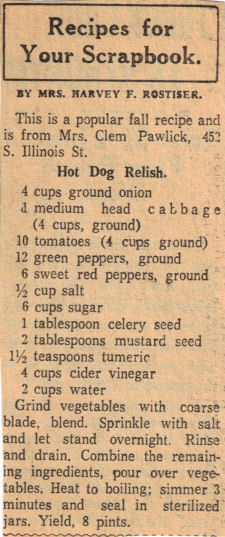 This recipe clipping comes from a large lot of old recipe clippings for pickles, jams, jellies, relishes and more. Date is unknown but the recipes in this lot suggest 1940s through to the 1960s. Recipe is typed below.
Before using this recipe, it's important to read this page, the "Safe Canning & Food Preservation" section.
Recipes for Your Scrapbook.
By Mrs. Harvey F. Rostiser.
This is a popular fall recipe and is from Mrs. Clem Pawlick, 452 S. Illinois St.
Hot Dog Relish.
4 cups ground onion
1 medium head cabbage (4 cups, ground)
10 tomatoes (4 cups ground)
12 green peppers, ground
6 sweet red peppers, ground
1/2 cup salt
6 cups sugar
1 tablespoon celery seed
2 tablespoons mustard seed
1 1/2 teaspoons tumeric
4 cups cider vinegar
2 cups water
Grind vegetables with coarse blade, blend. Sprinkle with salt and let stand overnight. Rinse and drain. Combine the remaining ingredients, pour over vegetables. Heat to boiling; simmer 3 minutes and seal in sterilized jars. Yield, 8 pints.
More Recipes For You To Enjoy: