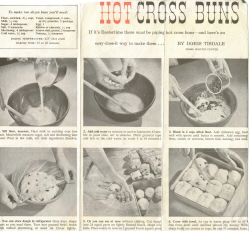 HOT CROSS BUNS
If it's Eastertime there must be piping hot cross buns–and here's and easy-does-it way to make them . . .
BY DORIS TISDALE
HOME SERVICE CENTER
To make two dozen buns you'll need:
Flour, enriched, 3 1/2 cups
Milk, 1/2 cup
Sugar, 4 tablespoons
Salt, 2 teaspoons
Shortening, 4 tablespoons
Cold water, 1/2 cup
Yeast, compressed, 1 cake, or dry granular, 1 package
Egg, 1
Raisins or currants, 1/2 cup
Lemon rind, grated, 2 teaspoons
Nutmeg, 1/2 teaspoon
BAKING TEMPERATURE: 425 degrees (hot oven)
BAKING TIME: 15 to 18 minutes
Sift flour, measure. Heat milk to scalding over low heat. Meanwhile measure sugar, salt and shortening into bowl. Pour in hot milk, stir until ingredients dissolve.
Add cold water to mixture to cool to lukewarm. Crumble in yeast cake, stir to dissolve. (With granular type add first to the cold water, let stand 5 to 10 minutes.)
Blend in 2 cups sifted flour. Add unbeaten egg, beat well with spoon until batter is smooth. Add remaining flour, raisins or currants, lemon rind, nutmeg; mix well.
You can store dough in refrigerator three days, shape buns as you need them. Turn into greased bowl; brush with melted shortening or salad oil. Cover tightly.
Or you can use at once without chilling. Cut dough into 24 equal parts on lightly floured board, shape into balls. Place evenly in rows in 2 greased 8-inch square pans.
Cover with towel, let rise in warm place (80 degrees to 85 degrees) free from draft until doubled (about 1 1/2 hours). With sharp knife cut crosses in tops; let rise 10 minutes; bake.
More Recipes For You To Enjoy: