Here are three handwritten recipes for the same Hot Chicken Salad, but each for different quantities. I think this might be a nice dish for large gatherings, potluck meals or maybe was a recipe used for Church suppers–it definitely appears to be a favorite. I've typed each of them out below, these were found in the same box of old recipes.
There's also a fourth recipe at the bottom for "Special Chicken Salad" that I think might be in reference to this salad.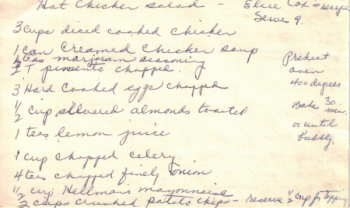 Hot Chicken Salad
Elsie Cox's recipe
Serves 9
3 cups diced cooked chicken
1 can creamed chicken soup
1/8 teas marjoram seasoning
2 T pimento chopped
3 Hard cooked eggs chopped
1/2 cup slivered almonds toasted
1 teas lemon juice
1 cup chopped celery
4 teas chopped finely onion
1/2 cup Hellman's mayonnaise
2 cups crushed potato chips–reserve 1/2 cup for topping
Preheat oven 400 degrees
Bake 30 mins or until bubbly
On the back of this recipe is the same salad but for a bigger quantity, I'd say serving 18-20:
6 cups chicken
3 1/2 can chicken soup
1/4 teas marjoram
7 T pimento
11 eggs
3/4 cup almonds
4 teas lemon juice
3 1/2 cups chopped celery
8 teas chopped onion
1 1/2 cup mayonnaise
6 cups crushed potato chips – Reserve 1 1/2 cups for topping.
Then there's this recipe card from the same batch of old recipes that serves a large quantity (30), same Hot Chicken Salad recipe: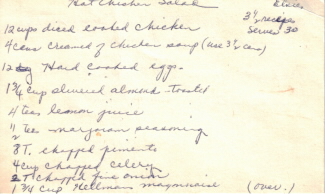 Hot Chicken Salad
Elsie's
3 1/2 recipes
Serves 30
12 cups diced cooked chicken
4 cans creamed of chicken soup (use 3 1/2 cans)
12 hard cooked eggs
1 3/4 cup slivered almonds – toasted
4 teas lemon juice
1/2 teas marjoram seasoning
8 T chopped pimento
4 cup chopped celery
2 T chopped fine onion
1 3/4 cup Hellman's mayonnaise
8 cups crushed potato chips reserve 1 3/4 cups of crushed chips for topping
Preheat oven 400 degrees & bake 30 minutes or until bubbly.
What's interesting too is this recipe for Special Chicken Salad that doesn't include the salad recipe, just the extra ingredients to make it special. Since it was found in the same box of recipes, I think that recipe might be for this salad. This one is printed and looks to be a different style of writing, but it could have been written by someone else and given to this woman to add to her recipe.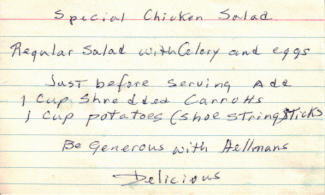 Special Chicken Salad
Regular Salad with celery and eggs
Just before serving add 1 cup shredded carrots
1 cup potatoes (shoe string) sticks
Be generous with Hellmans
Delicious
More Recipes For You To Enjoy: