This recipe was written on a lined index card and found in a large collection, date unknown. I've typed it below along with a scanned copy.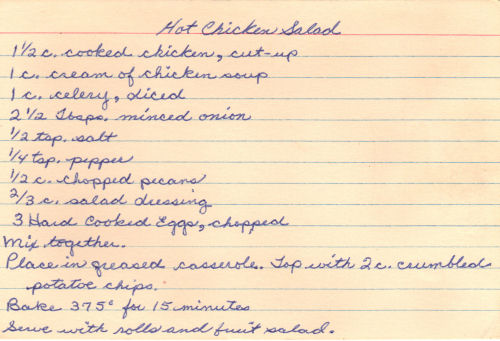 Hot Chicken Salad
1 1/2 c. cooked chicken, cut-up
1 c. cream of chicken soup
1 c. celery, diced
2 1/2 Tbsps. minced onion
1/2 tsp. salt
1/4 tsp. pepper
1/2 c. chopped pecans
2/3 c. salad dressing
3 hard cooked eggs, chopped
Mix together.
Place in greased casserole. Top with 2 c. crumbled potato chips.
Bake 375° for 15 minutes.
Serve with rolls and fruit salad.
More Recipes For You To Enjoy: