This recipe was clipped from a magazine and found in a large collection, date unknown. Recipe is typed below along with a scanned copy (recipe was across two columns so I snipped them together for the scan).
Hoska
1 cup milk
1/2 cup shortening
3/4 cup granulated sugar
3/4 teasp. salt
2 pkg. active dry, or 2 cakes compressed, yeast
1/4 cup warm (not hot) or lukewarm water
2 eggs, beaten
3 cups sifted all-purpose flour
1/4 cup seedless raisins
1/4 cup canned diced citron
1/4 cup chopped, blanched almonds
About 2 1/2 cups sifted all-purpose flour
Melted butter or margarine
1 egg
1 tablesp. water
1/4 cup blanched whole almonds
In small saucepan, scald milk; stir in shortening, sugar, salt. Cool till lukewarm.
In large bowl, sprinkle or crumble yeast onto 1/4 cup water (for compressed yeast, use lukewarm water); stir until dissolved. Stir in lukewarm milk mixture, then 2 eggs, then 3 cups flour; with spoon, beat until smooth. Stir in raisins, citron, chopped almonds, and about 2 1/2 cups flour (or enough to make stiff dough).
On lightly floured surface, knead dough until smooth. Place in greased bowl, turning once to grease all sides. Cover with clean towel; let rise in warm place (about 85° F.) about 1 1/4 hr., or until dent remains when finger is pressed deep into side of dough.
Punch down dough; turn onto floured surface; divide in half. Then divide one half into 3 equal pieces; roll each piece between hands into strip about 18″ long. Place strips 1″ apart on lightly greased large cookie sheet, and braid, beginning in middle and working toward each end. Brush top lightly with melted butter or margarine.
Divide two thirds of remaining dough into 3 equal pieces; on floured surface, form, same way, into second, but thinner braid 18″ long; place on top of first braid. Brush top lightly with melted butter or margarine.
Form remaining dough into third, very thin braid about 18″ long; place on top of second braid. (Be sure 2 top braids are centered; if necessary, use toothpicks to hold braids in place while baking.)
Let rise in warm place about 1 hr., or until doubled in bulk. Meanwhile, start heating oven to 375° F. Beat 1 egg with 1 tablesp. water; when loaf has doubled in bulk, brush with egg mixture. Decorate with whole almonds. Bake 40 to 45 min., or until done. Especially nice served slightly warm. Makes 1 loaf.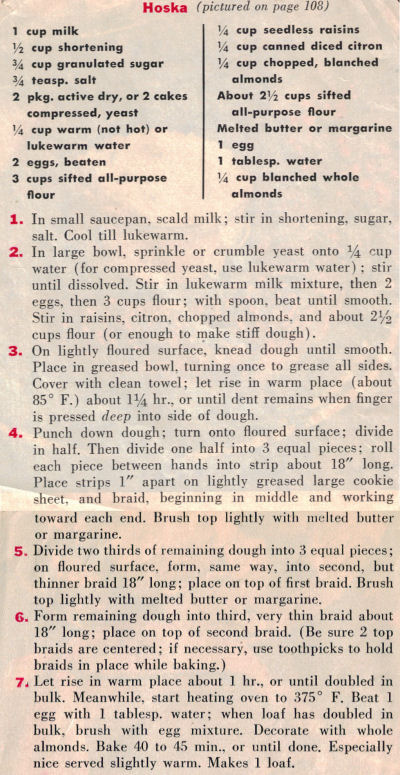 More Recipes For You To Enjoy: