This recipe was clipped from a newspaper article, date unknown. Recipe is typed below along with a scanned copy.
Weekend eye-opener
By Nancy Byal
Better Homes and Gardens
Fresh-baked muffins bring my family to the table in a hurry on a weekend morning. The night before, I measure and mix the dry ingredients in one bowl and cover and refrigerate the liquid ingredients in another, ready for quick mixing at breakfast time.
HONEY-WHEAT MUFFINS
1 cup all-purpose flour
1/2 cup whole wheat flour
2 tsp. baking powder
1/4 tsp. salt
1 beaten egg
1/2 cup milk
1/2 cup honey
1/4 cup cooking oil
1/2 tsp. finely shredded lemon peel
In a bowl stir together all-purpose flour, whole wheat flour, baking powder and salt; make a well in the center. Combine egg, milk, honey, oil and lemon peel; add all at once to dry ingredients, stirring just until moistened (batter should be lumpy). Fill greased or paper-lined muffin cups two-thirds full. Bake in a 375-degree oven about 20 minutes. Makes 10.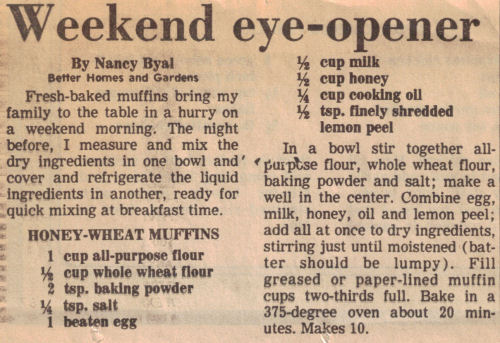 More Recipes For You To Enjoy: