This recipe was clipped from WOMAN'S DAY magazine and published in 1968. Recipe is typed below along with a scanned copy.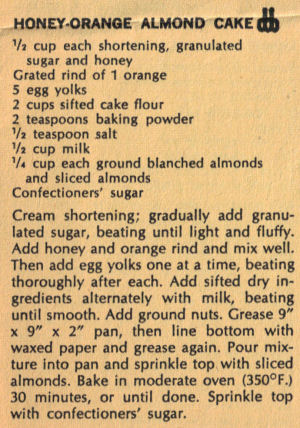 HONEY-ORANGE ALMOND CAKE
1/2 cup each shortening, granulated sugar and honey
Grated rind of 1 orange
5 egg yolks
2 cups sifted cake flour
2 teaspoons baking powder
1/2 teaspoon salt
1/2 cup milk
1/4 cup each ground blanched almonds and sliced almonds
Confectioners' sugar
Cream shortening; gradually add granulated sugar, beating until light and fluffy. Add honey and orange rind and mix well. Then add egg yolks one at a time, beating thoroughly after each. Add sifted dry ingredients alternately with milk, beating until smooth. Add ground nuts. Grease 9″ x 9″ x 2″ pan, then line bottom with waxed paper and grease again. Pour mixture into pan and sprinkle top with sliced almonds. Bake in moderate oven (350°F.) 30 minutes, or until done. Sprinkle top with confectioners' sugar.
More Recipes For You To Enjoy: