This old recipe was clipped from a newspaper, date unknown. Recipe is typed below along with a scanned copy. You'll see on the scan that there is a tiny piece missing from the original recipe, I made a note below regarding that.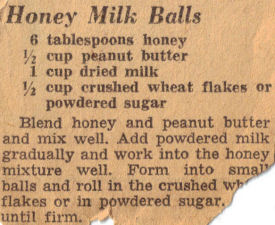 Honey Milk Balls
6 tablespoons honey
1/2 cup peanut butter
1 cup dried milk
1/2 cup crushed wheat flakes or powdered sugar
Blend honey and peanut butter and mix well. Add powdered milk gradually and work into the honey mixture well. Form into small balls and roll in the crushed wheat flakes or in powdered sugar. Chill until firm.*
*RecipeCurio Note: There's a small piece of the clipping missing, I believe it originally stated to chill the balls until firm.
More Recipes For You To Enjoy: