This recipe was published by Farm Journal in 1966 as part of a holiday treats article titled "Best-Ever Candy". Recipe is typed below along with a scanned copy.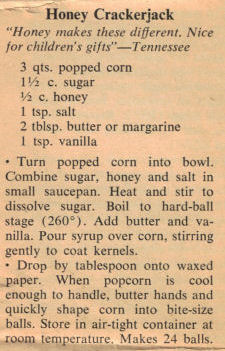 Honey Crackerjack
"Honey makes these different. Nice for children's gifts"–Tennessee
3 qts. popped corn
1 1/2 c. sugar
1/2 c. honey
1 tsp. salt
2 tblsp. butter or margarine
1 tsp. vanilla
Turn popped corn into bowl. Combine sugar, honey and salt in small saucepan. Heat and stir to dissolve sugar. Boil to hard-ball stage (260°). Add butter and vanilla. Pour syrup over corn, stirring gently to coat kernels.
Drop by tablespoon onto waxed paper. When popcorn is cool enough to handle, butter hands and quickly shape corn into bite-size balls. Store in air-tight container at room temperature. Makes 24 balls.
More Recipes For You To Enjoy: