This recipe was clipped from a magazine, date unknown. Recipe is typed below along with a scanned copy.
VANILLA ICE CREAM
1 "Junket" Brand Rennet Tablet
1 tablespoon cold water
2 cups light cream
1/4 cup sugar
1/4 cup corn sirup (Karo, Sweetose, etc.)*
1 1/4 teaspoons vanilla
Dissolve "Junket" Rennet Tablet by crushing in cold water. Mix light cream, sugar, sirup and vanilla. Then follow directions on the package for making rennet-custards. Pour at once, while still liquid, into freezing tray. Do not move until set–about 10 minutes. Then place in freezing compartment and freeze until firm. Remove to bowl, break up with fork, and beat with rotary beater until a thick smooth mush. Finish freezing.
*Corn sirup may be replaced by 1/4 cup sugar; or by 1/4 cup sweetened condensed milk. OR omit both corn sirup and sugar and use 1/3 cup honey.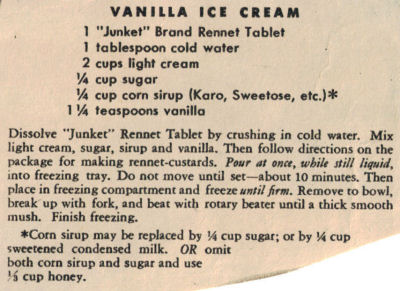 More Recipes For You To Enjoy: