This recipe was written on an index card and found in a large collection, date unknown. Recipe is typed below along with a scanned copy (of the front side only).
Spaghetti Sauce
Need –
1 lg. can (28 oz.) chopped tomatoes
1 lg. can (28 oz.) Puree
2 small cans paste
1 reg. jar Ragu (smallest)
Lightly salt saucepan, add oil (3 T.). Put whole onion in pan. Add 2 cans paste, salt & pepper & 2 cans water.
Blend tomatoes & 2 cloves garlic in blender. Add to paste & 3/4 can of puree – Ital. season & salt & pepper.
Italian Seasoning – Romano cheese, little basil, dash of wine & 1 can of water (can from tomatoes).
Cook to boil – slowly – 10 – 15 min. Then add Ragu plus jar of water from Ragu, pinch of sugar. Add meatballs. Bring to boil then simmer for 2 1/2 – 3 hrs. If bitter add pinch of baking soda 1/2 hr. before completion.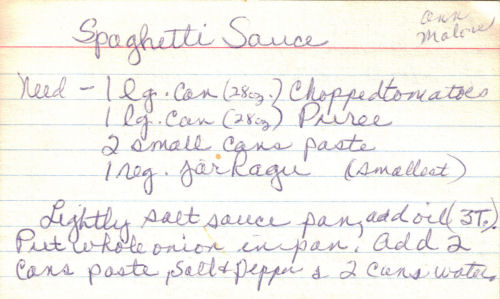 More Recipes For You To Enjoy: