This old recipe was typed on a file card and found in a large collection, date unknown. Recipe was well used judging by all the splatters on it. Recipe is typed below along with a scanned copy (I corrected the typo of "Raisen" to "Raisin").
Raisin Sauce
1/2 cup Brown Sugar
2 tbsp. Cornstarch
Add 1 cup boiling water a little at a time. Stir well to avoid lumps. Set over low flame.
When it starts to boil add 1/2 cup raisins.
Simmer for 5 minutes over very low flame stirring occasionally.
Remove from heat and stir in 1 tbsp butter.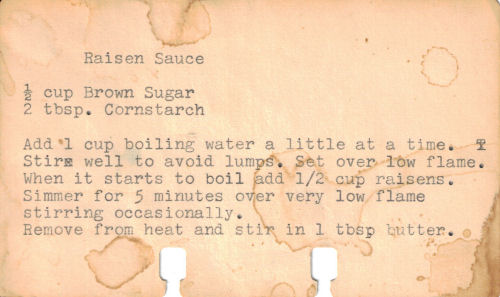 More Recipes For You To Enjoy: