This recipe was typed onto an index card and found in a large collection, date unknown. It includes a couple variations to the candy (found at the bottom). Recipe is typed below along with scanned copies of both front and back.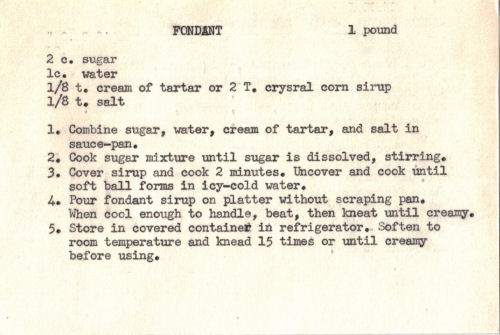 FONDANT
1 pound
2 c. sugar
1 c. water
1/8 t. cream of tartar or 2 T. crystal corn sirup
1/8 t. salt
Combine sugar, water, cream of tartar, and salt in sauce-pan.
Cook sugar mixture until sugar is dissolved, stirring.
Cover sirup and cook 2 minutes. Uncover and cook until soft ball forms in icy-cold water.
Pour fondant sirup on platter without scraping pan. When cool enough to handle, beat, then knead until creamy.
Store in covered container in refrigerator. Soften to room temperature and knead 15 times or until creamy before using.
VARIATION: Use receipt for Fondant.
Bonbons
2 to 3 drops food color–white, pink, green, or red
2 to 3 drops flavoring–peppermint or wintergreen
Add to Fondant before kneading.
Shape Fondant into balls, cubes, patties, or diamonds. Set aside to dry several hours.
Chocolate-Covered Fondant
3 sq. chocolate
1/4 c. nut halves
Shape fondant and set aside to dry 30 minutes.
Melt chocolate over hot water.
Dip pieces into chocolate.
Top with nut halves.
Set aside to dry.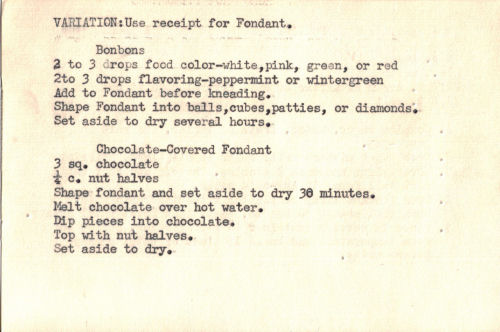 More Recipes For You To Enjoy: