This recipe was clipped from a newspaper and found in a large collection, date unknown. Recipe is typed below along with a scanned copy.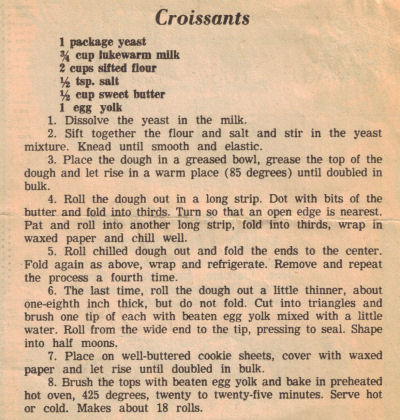 Croissants
1 package yeast
3/4 cup lukewarm milk
2 cups sifted flour
1/2 tsp. salt
1/2 cup sweet butter
1 egg yolk
Dissolve the yeast in the milk.
Sift together the flour and salt and stir in the yeast mixture. Knead until smooth and elastic.
Place the dough in a greased bowl, grease the top of the dough and let rise in a warm place (85 degrees) until doubled in bulk.
Roll the dough out in a long strip. Dot with bits of the butter and fold into thirds. Turn so that an open edge is nearest. Pat and roll into another long strip, fold into thirds, wrap in waxed paper and chill well.
Roll chilled dough out and fold the ends to the center. Fold again as above, wrap and refrigerate. Remove and repeat the process a fourth time.
The last time, roll the dough out a little thinner, about one-eighth inch thick, but do not fold. Cut into triangles and brush one tip of each with beaten egg yolk mixed with a little water. Roll from the wide end to the tip, pressing to seal. Shape into half moons.
Place on well-buttered cookie sheets, cover with waxed paper and let rise until doubled in bulk.
Brush the tops with beaten egg yolk and bake in preheated hot oven, 425 degrees, twenty to twenty-five minutes. Serve hot or cold. Makes about 18 rolls.
More Recipes For You To Enjoy: