This recipe was written on a lined index card and notes the source as the Farmers' Almanac (72). Recipe is typed below along with a scanned copy.
Homemade Chocolates
Centers
1 c. sweetened condensed milk
1/4 lb. softened margarine
2 1/2 pkgs. powdered sugar
Desired flavoring to taste
Food coloring if desired
Blend above ingredients, shape into tiny balls and chill or freeze. When thoroughly chilled, impale each on toothpick and dip quickly into chocolate. Cool on waxed paper.
Dipping Chocolate
12 oz. semi-sweet choc. bits
4 oz. sweet or unsweetened choc.
1/2 block paraffin wax
Melt in double boiler over boiling water, blending thoroughly. Dip chocolates quickly, push from toothpick and dribble a bit more chocolate over hole.
From Farmers' Almanac 72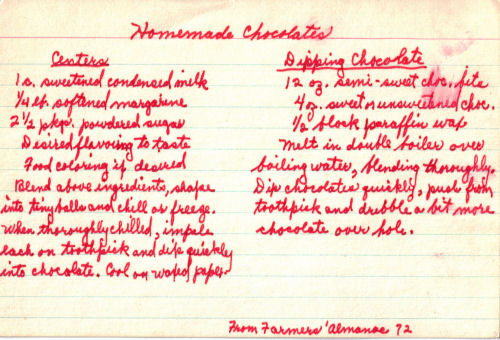 More Recipes For You To Enjoy: