This recipe was written on two slips of scrap paper and found in a large collection, date unknown. I've typed it below along with a scanned copy. There's a note in the top right corner that reads: Serves 16 or 2, I corrected that to read 20 (I'm assuming that's what it should be).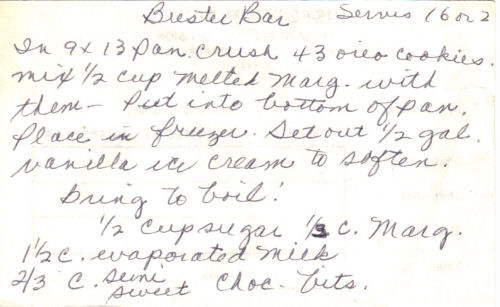 Buster Bar
Serves 16 or 20
In 9×13 pan crush 43 oreo cookies. Mix 1/2 cup melted marg. with them — put into bottom of pan. Place in freezer. Set out 1/2 gal. vanilla ice cream to soften.
Bring to boil:
1/2 cup sugar
1/3 c. marg.
1 1/2 c. evaporated milk
2/3 c. semi-sweet choc. bits
Continue stirring until choc. melts completely and it gets a little thick. Cool this.
While cooling the choc., smooth softened ice cream over oreos and sprinkle with 1/2 c. peanuts. Return to freezer. When fudge is cooled – pour over nuts and return to freezer. Let set until frozen. (if you can wait that long).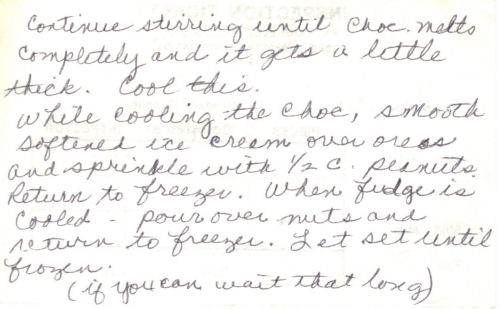 More Recipes For You To Enjoy: