This is a page clipped from Parade Magazine Dec. 28, 1958. Article and recipe by Beth Merriman, Parade food editor. Recipe follows picture below: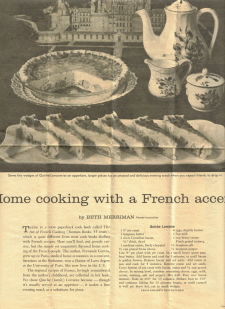 Home cooking with a French accent
by BETH MERRIMAN Parade food editor
THERE IS A NEW paperback cook book called the Art of French Cooking (Bantam Books, 35 cents), which is quite different from most cook books dealing with French recipes. Here you'll find, not grande cuisine, but the simple yet exquisitely flavored home cooking of the French people. The author, Fernande Garvin, grew up in Paris, studied home economics in a convent, literature at the Sorbonne, won a Doctor of Laws degree at the University of Paris. She now lives in the U.S.
The regional recipes of France, lovingly remembered from the author's childhood, are collected in her book. We chose Quiche (keesh) Lorraine because–though it's usually served as an appetizer–it makes a fine evening snack as a substitute for pizza.
Quiche Lorraine
1 9″ pie crust
1 teaspoon butter
3 slices Canadian bacon, 1/4″ thick, diced
1 medium onion, finely chopped
1/2 cup grated Swiss cheese
4 eggs, slighly beaten
1 cup milk
1 cup heavy cream
Pinch grated nutmeg
1/2 teaspoon salt
1/4 teaspoon pepper
Line 9″ pie plate with pie crust. In a small heavy sauce pan, heat butter. Add bacon and cook for 5 minutes, or until bacon is golden brown. Remove bacon and set aside. Add onion to pan and cook for 5 minutes. Remove onion and set aside. Cover bottom of pie crust with bacon, onion and 1/4 cup grated cheese. In mixing bowl, combine remaining cheese, eggs, milk, cream, nutmeg, salt and pepper. Mix well. Pour over bacon mixture. Bake at 450° for 15 minutes. Reduce heat to 350° and continue baking for 15 minutes longer, or until custard is well set. Serve hot, cut in small wedges.
FROM PARADE'S TEST KITCHEN
Parade – Dec. 28, 1958
More Recipes For You To Enjoy: