This handwritten recipe card was found in a large collection, date unknown. I've typed it below along with a scanned copy (front side only).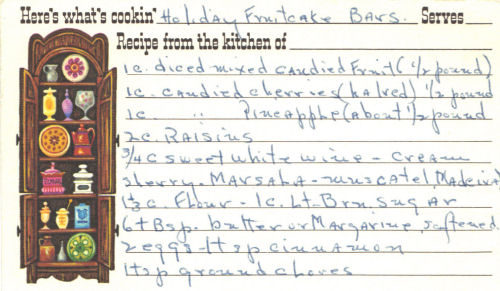 Holiday Fruitcake Bars
1 c. diced mixed candied fruit (1/2 pound)
1 c. candied cherries (halved) 1/2 pound
1 c. candied pineapple (about 1/2 pound)
2 c. raisins
3/4 c. sweet white wine – cream sherry (marsala muscatel madeira)
1 1/3 c. flour
1 c. lt. brn. sugar
6 tbsp. butter or margarine, softened
2 eggs
1 tsp cinnamon
1 tsp ground cloves
1/4 tsp baking soda
1/4 tsp salt
In medium bowl, mix fruits & wine. Cover & let stand overnight.
Next day:
Preheat oven 350°F. Grease & flour a 15 1/2 x 10 1/2 jelly roll pan. In large bowl measure flour, remaining ingreds. With mixer at low speed, beat ingredients until well mixed with spatula stir in fruit mixture.
Spread batter evenly in pan. Bake 30 min. Test with toothpick. Cool completely in pan.
Cut in bars. Store tightly in covered container.
4 doz.
More Recipes For You To Enjoy: