This promo recipe sheet from Pillsbury was found in a large collection, date unknown. I've typed it below along with a scanned copy.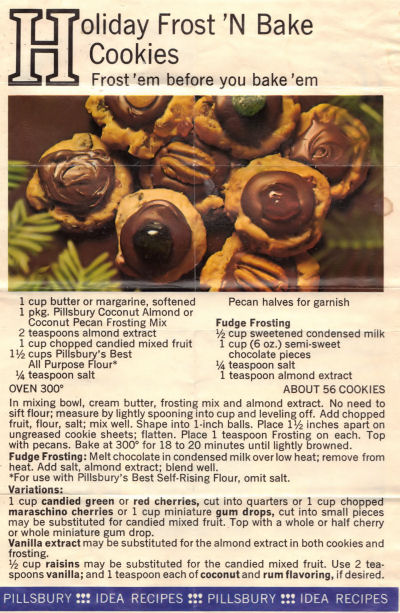 Holiday Frost 'N Bake Cookies
Frost 'em before you bake 'em
1 cup butter or margarine, softened
1 pkg. Pillsbury Coconut Almond or Coconut Pecan Frosting Mix
2 teaspoons almond extract
1 cup chopped candied mixed fruit
1 1/2 cups Pillsbury's Best All Purpose Flour*
1/4 teaspoon salt
Pecan halves for garnish
Fudge Frosting
1/2 cup sweetened condensed milk
1 cup (6 oz.) semi-sweet chocolate pieces
1/4 teaspoon salt
1 teaspoon almond extract
OVEN 300°
ABOUT 56 COOKIES
In mixing bowl, cream butter, frosting mix and almond extract. No need to sift flour; measure by lightly spooning into cup and leveling off. Add chopped fruit, flour, salt; mix well. Shape into 1-inch balls. Place 1 1/2 inches apart on ungreased cookie sheets; flatten. Place 1 teaspoon Frosting on each. Top with pecans. Bake at 300° for 18 to 20 minutes until lightly browned.
Fudge Frosting: Melt chocolate in condensed milk over low heat; remove from heat. Add salt, almond extract; blend well.
*For use with Pillsbury's Best Self-Rising Flour, omit salt.
Variations:
1 cup candied green or red cherries, cut into quarters or 1 cup chopped maraschino cherries or 1 cup miniature gum drops, cut into small pieces may be substituted for candied mixed fruit. Top with a whole or half cherry or whole miniature gum drop.
Vanilla extract may be substituted for the almond extract in both cookies and frosting.
1/2 cup raisins may be substituted for the candied mixed fruit. Use 2 teaspoons vanilla; and 1 teaspoon each of coconut and rum flavoring, if desired.
More Recipes For You To Enjoy: