Another holiday beverage recipe from:
Holiday Sunshine Recipes
Volume 1
On the back cover, the following information:
The East Ohio Gas Company
Part of the Consolidated Natural Gas System
"The Sunshine People"
No date
Recipe follows image below: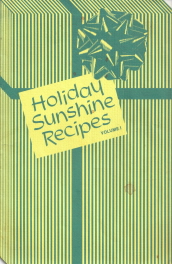 Holiday Egg Nog
12 egg yolks
1 (1 pound) box confectioners sugar
2 quarts cream
1 quart milk
6 egg whites
1/2 teaspoon salt
1 teaspoon brandy or rum flavoring
nutmeg
Beat egg yolks until light. Gradually beat in confectioners sugar. Add cream and milk very slowly, beating constantly. Beat egg whites and salt until stiff but not dry. Fold them lightly into other ingredients. Add brandy or rum flavoring and sprinkle with nutmeg. Yield: 5 quarts.
More Recipes For You To Enjoy: