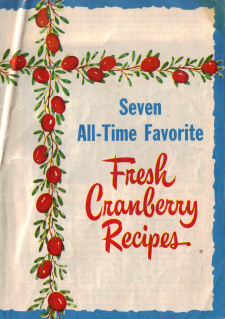 This recipe comes from a vintage recipe pamphlet distributed by Ocean Spray Cranberry Products, date unknown. The pamphlet features seven different fresh cranberry recipes…this is the Holiday Cranberry Salad recipe, typed below along with a scanned copy of the recipe at the bottom.
Holiday Cranberry Salad
There's something about a deep red glistening Fresh Cranberry Salad…as tempting to look at as it is to taste…that makes an ordinary meal seem like a party.
1 package strawberry flavored gelatin
1 cup boiling water
1 package (1 lb.) Ocean Spray Fresh Cranberries, coarsely ground
2 medium apples, ground
3/4 cup sugar
Dissolve strawberry gelatin in boiling water. Chill until partially set. Mix ground cranberries and apples with the sugar and fold it into partially set gelatin. Pour into a 1 quart mold or six to eight individual molds. Chill until firm. Unmold on lettuce leaves and surround with fresh orange slices.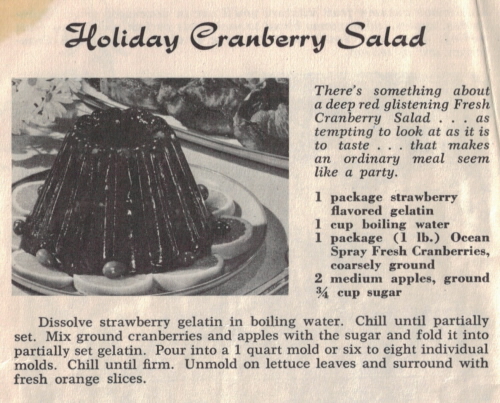 More Recipes For You To Enjoy: