This recipe was published by Farm Journal in 1966 as part of a holiday treats article titled "Best-Ever Candy". Recipe is typed below along with scanned copies (recipe was clipped in two parts).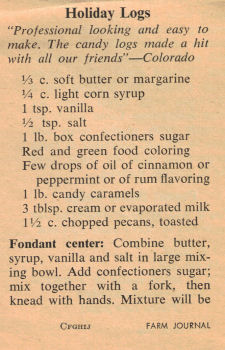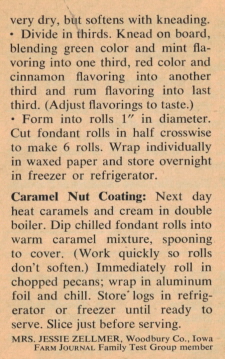 Holiday Logs
"Professional looking and easy to make. The candy logs made a hit with all our friends"–Colorado
1/3 c. soft butter or margarine
1/4 c. light corn syrup
1 tsp. vanilla
1/2 tsp. salt
1 lb. box confectioners sugar
Red and green food coloring
Few drops of oil of cinnamon or peppermint or of rum flavoring
1 lb. candy caramels
3 tblsp. cream or evaporated milk
1 1/2 c. chopped pecans, toasted
Fondant center: Combine butter, syrup, vanilla and salt in large mixing bowl. Add confectioners sugar; mix together with a fork, then knead with hands. Mixture will be very dry, but softens with kneading.
Divide in thirds. Knead on board, blending green color and mint flavoring into one third, red color and cinnamon flavoring into another third and rum flavoring into last third. (Adjust flavorings to taste.)
Form into rolls 1″ in diameter. Cut fondant rolls in half crosswise to make 6 rolls. Wrap individually in waxed paper and store overnight in freezer or refrigerator.
Caramel Nut Coating: Next day heat caramels and cream in double boiler. Dip chilled fondant rolls into warm caramel mixture, spooning to cover. (Work quickly so rolls don't soften.) Immediately roll in chopped pecans; wrap in aluminum foil and chill. Store logs in refrigerator or freezer until ready to serve. Slice just before serving.
More Recipes For You To Enjoy: