Here's a vintage clipping for Heavenly Rice but it doesn't make clear what exactly this dish is, I think it's a rice salad but let me know what you think. Date unknown. Recipe is typed below along with a scanned copy.
Heavenly Rice
1/2 cup uncooked rice
2 1/2 cups milk
1/3 cup sugar
1/4 tsp. salt
1/2 lb. marshmallows, diced
1/2 cup crushed pineapple
1/2 cup candied or maraschino cherries
1/2 cup heavy cream
1/2 tsp. almond extract
Cook together rice, sugar, salt and milk until rice is soft. Take from heat and cool until chilled. Add diced marshmallows, fruit, flavoring and cream which has been stiffly whipped. Chill thoroughly.
Other readers suggested adding 2 tablespoons lemon juice to the whipped cream, and then beating in 1 to 4 tablespoons of powdered sugar before adding cream to rice mixture. Also, it was advised that 1/4 cup chopped nuts be added to the rice mixture, and that a varying amount of coconut can be substituted for the marshmallows.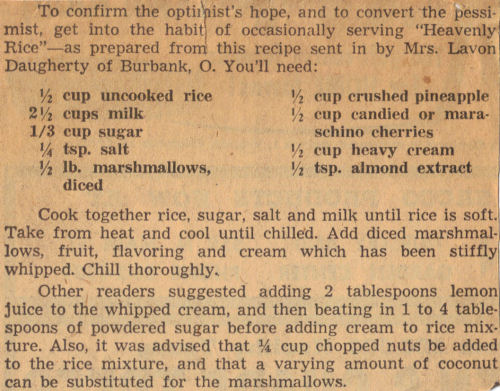 More Recipes For You To Enjoy: