This recipe is from a Pillsbury Idea Recipes sheet and found in a large collection, date unknown. Recipe is typed below along with a scanned copy.
Hearty potato pan burger
Adapted From a Winner in Pillsbury's 13th Bake Off
1 1/2 pounds lean ground beef
1 pkg. (5/8 oz.) Pillsbury Brown Gravy Mix
10 1/2 ounce can condensed cream of mushroom soup
1 cup dairy sour cream
1/4 cup water
2 tablespoons catsup
Topping
1 cup Pillsbury's Best All Purpose Flour*
1 cup Pillsbury Hungry Jack
Mashed Potato Flakes
2 teaspoons baking powder
1/2 teaspoon salt
3/4 cup milk
2 tablespoons cooking oil
1 egg
OVEN 425°
5 TO 6 SERVINGS
Place meat in 2 qt. round casserole. Break into small pieces. Bake at 425° for 20-25 min. Drain. Add gravy mix, soup, sour cream, water and catsup. Mix. Drop Topping by spoonfuls around edge. Bake at 425° for 30-35 min.
Topping: No need to sift flour; measure by lightly spooning into cup and leveling off. Combine Topping ingredients; stir until moistened.
*For use with Pillsbury's Best Self-Rising Flour, decrease salt to 1/4 teaspoon and omit baking powder.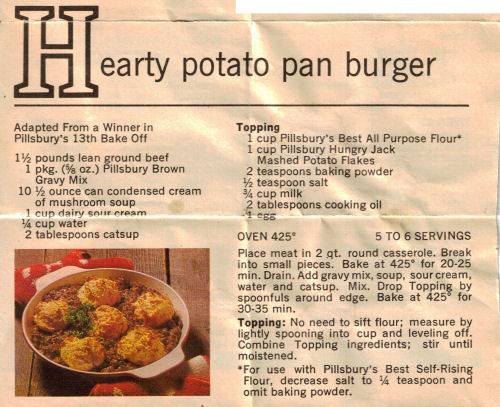 More Recipes For You To Enjoy: