This recipe was written on a white lined recipe card and found in a large collection of recipes. Recipe is typed below along with a scanned copy.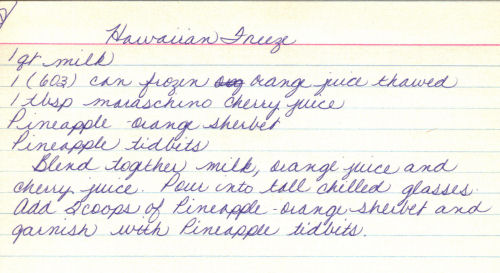 Hawaiian Freeze
1 qt milk
1 (6 oz) can frozen orange juice thawed
1 tbsp maraschino cherry juice
Pineapple – orange sherbet
Pineapple tidbits
Blend together milk, orange juice and cherry juice. Pour into tall chilled glasses. Add 2 scoops of Pineapple-orange sherbet and garnish with Pineapple tidbits.
More Recipes For You To Enjoy: